The Sunday Morning Gift Box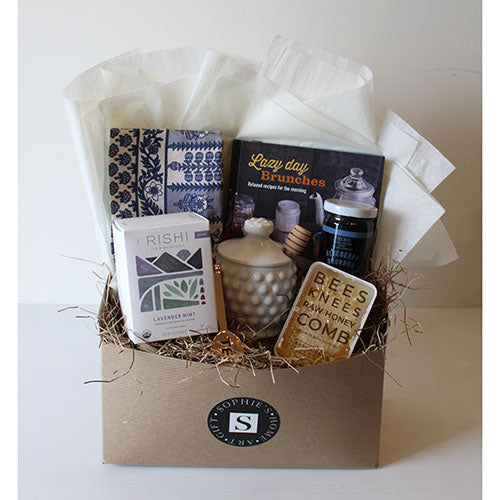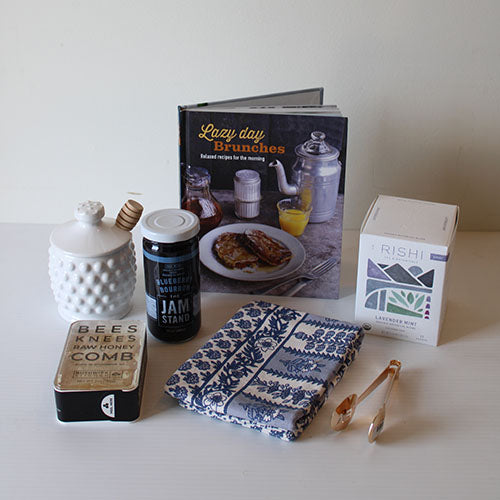 Product Details
Awaken your senses and indulge with The Sunday Morning Gift Box. Find comfort in the organic blend of lavender mint tea, naturally sweet raw honey, a delicious Blueberry Bourbon Jam, and the Lazy Day Brunches book!. Bring joy to a special someone with this unique collection that will surely make Sunday morning that much sweeter!
The Sunday Morning Gift Box Includes:
Gold Tea Tongs
Lavender Mint Organic Blend
Bees Knees Raw Honey
Lazy Day Brunches Book
White Honey Jar
Blueberry Bourbon Jam
Why we love it:
No more scrambling for that perfect gift - we've got you covered! Each curated gift box is carefully put together in a kraft box, and includes a hand-written note, decided by you. We'll do all the work but you'll get all the credit - it's a win win! They are going to love it!
*Let us know what you'd like your note to say at checkout! Available for Local Delivery, Pick-Up or Flat Rate Shipping. 
**If you would like to curate a box, please just give us a ring and we can build a custom box for you! 423-756-8711