The Relaxation Gift Box
Hurry, only 1 item left in stock!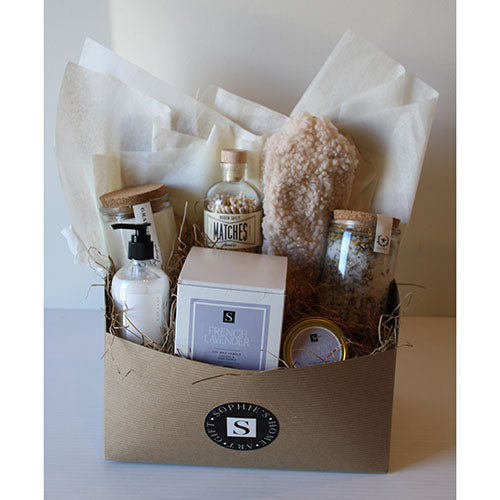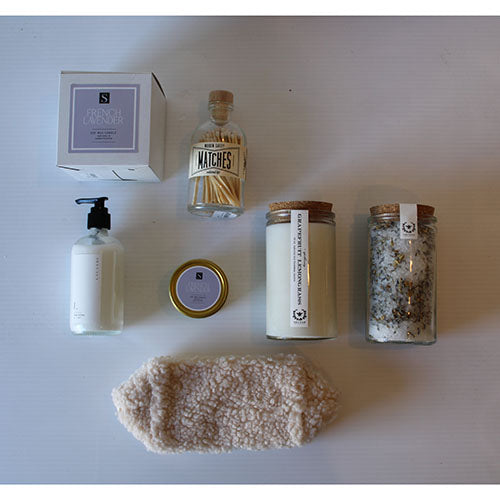 Product Details
What better gift is there than some peace and calm? Give their body what it needs with fragrances that soothe the mind and lotions and bath salts that revive the skin, this gift box has all the elements to rewind and recharge. 
The Relaxation Gift Box Includes:

Lavender Body Lotion
Grapefruit Lemongrass Candle
White Vintage Apothecary Matches
French Lavender Candle
Lavender Gold Candle Tin
Cream Teddy Bear Case
Large Lavender Chamomile Bath Salts
Why we love it:
No more scrambling for that perfect gift - we've got you covered! Each curated gift box is carefully put together in a kraft box, and includes a hand-written note, decided by you. We'll do all the work but you'll get all the credit - it's a win win! They are going to love it!
*Let us know what you'd like your note to say at checkout! Available for Local Delivery, Pick-Up or Flat Rate Shipping. 
**If you would like to curate a box, please just give us a ring and we can build a custom box for you! 423-756-8711